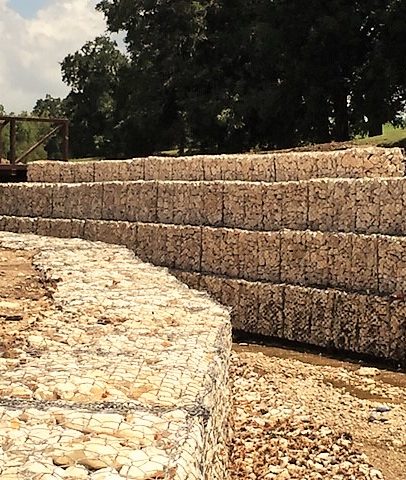 Willow Springs Golf Course Project
Location: San Antonio, Texas
Methods: Watershed Management, Channel Diversion, Flow Mitigation, Rock Gabions, Reno Mattresses
The project included widening and deepening approximately 500 LF section of the Salado Creek watershed channel, while stabilizing the vulnerable river bank soils. This included fabrication of rock gabion baskets along the tributary point and cut banks, with gabion mattresses placed in the river bed to ensure sustained preservation against future rain events.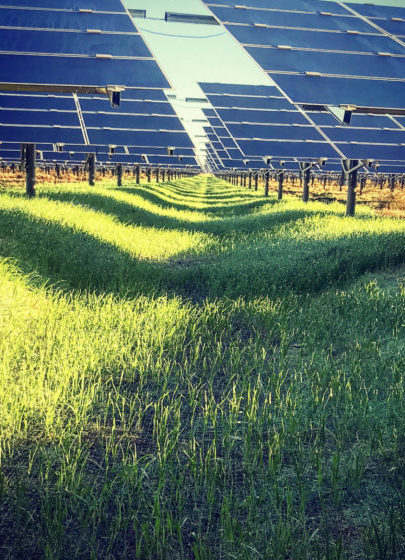 Blue Wing Solar Farm Project
Location: Elmendorf, Texas
Methods: Reno Mattresses, Rock Gabion Toe-Ins, High Performance Turf Reinforcement Matting (HPTRM), Hydromulch
On the Southside of San Antonio, A K Fuquay Construction was commissioned to assist in the repair of the substantial erosion underneath solar panels. Reno Mattresses use smaller stones that are typically between 6 – 12 inches in diameter. Turf reinforcement mats (TRMs) are non-biodegradable materials that provide erosion protection and fast-track vegetative development. Approximately 950 LF of hand-dug trenches underneath the panels were constructed and reinforced with TRM to mitigate runoff and prevent future damage to the panel structures.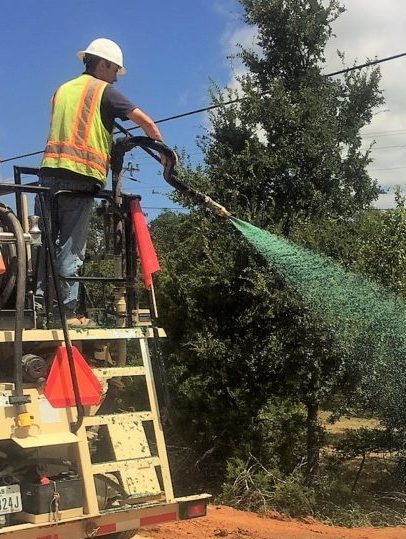 City of New Braunfels Dog Park
Location: New Braunfels, Texas
Methods: Hydromulch
A K Fuquay Construction was honored to receive the opportunity by the City of New Braunfels to bring grass to its newly developed dog park. This task was achieved through successful application of a high performance hydromulch. The process is designed to work openly with soils to sustain its stability, by both stabilizing existing soil structure, and strengthening the fine sediment dislodged by storm water or wind. The hydromulch was mixed with the designed seeding for the dog park, and helped retain seed moisture for faster germination and growth.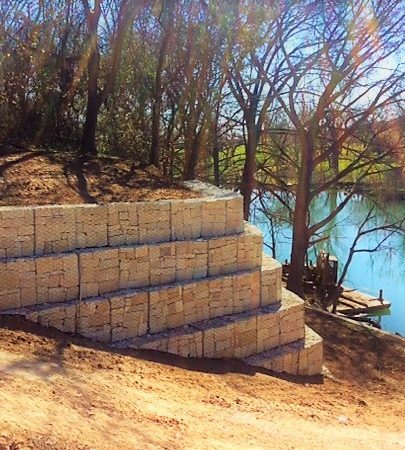 Lake Dunlap Private Project
Location: New Braunfels, Texas
Methods: Flagstone Rock Gabion Walls
The staff at A K Fuquay Construction was approached by a private client with the task of designing and constructing a gabion wall on their lakefront property. Further, the client specified a desire for Flagstone decorative rock for aesthetics. The engineering of the structure ensured against embankment washout and long-term erosion from the water flow of Lake Dunlap.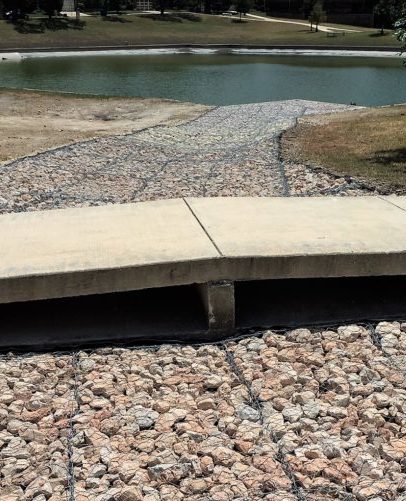 Alon Loop Home Owners Association Project
Location: San Antonio, Texas
Methods: Gabion Reno Mattress, Non-Woven Filter Fabric
The Alon Loop HOA struggled to find a cost-effective solution to watershed problems in their community, after heavy rain events caused damage and high-water levels in their area drainage pond. A K Fuquay Construction was awarded the project, consisting of Reno Gabion Mattress installation within a substantial-flow drainage easement. The professionals at A K Fuquay Construction successfully upgraded the drainage easement and prevented further damage to the Alon Loop neighborhood.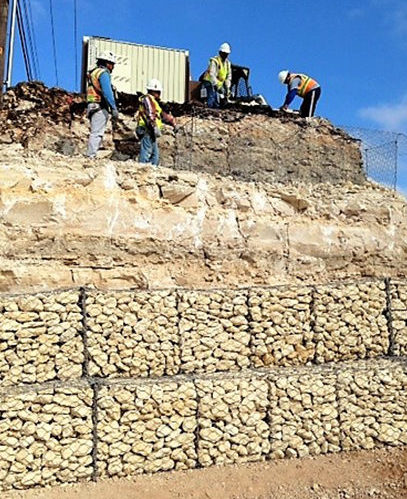 Sam's Club at Hwy 281 & Marshall Road Project
Location: San Antonio, Texas
Methods: Rock Gabion Walls
Off Hwy 281 & Marshall Road at the Sam's Club Entrance, A K Fuquay Construction was awarded the Gabion Wall Project to protect the cliffside. These gabion walls have the modularity and capability to be arranged in various shapes make them an effective erosion control material in many applications. The geological characteristics of the north San Antonio area presented a situation where the owners of the project needed customizable solution to guarantee longevity of the project entrance.